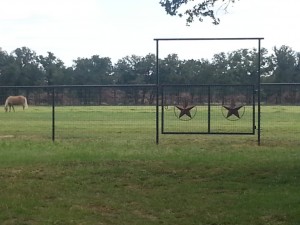 Please allow us to introduce ourselves:
Rancho de las Brisas, Don & Marge Faulstich,  have been owner-breeders of Peruvian Paso horses since 1987. We own & operate our horse breeding business only after careful research and study of Peruvian Paso bloodlines, and profit potential.  We emphasize quality, not quantity- strength, good mind, good bone, correct confirmation, pisos, and beauty in our breeding program.
Prior to 1987, we owned Quarter-Cutting horses and were involved in Western Pleasure showing; training in team penning, and roping.  We left our beloved Quarter horses after Don developed a "ruptured disc" and was told "he would be unable to ride again."  Don, my husband is retired from California law enforcement, and I, Marge was a California Sheriff's Sergeant prior to 30 years of teaching & Chairing a College Criminal Justice program.
We have won multiple state & regional Championship horse show awards; i.e., Reserve Champion Breeding Mares & Stallions; Best Gaited Horse of Show; multiple prizes in Western, and so on, riding our own horses against top professional trainers. We are First Place Northern California Parade Winners on horses that are Champions in the show ring.
In 2012, we relocated our ranch from Sacramento County, California to Weatherford, Texas, known as "The Cutting Horse Capital of the World".  We LOVE Texas, and everything about the good folks here, lower living expenses, Country Music, and superb horse country.
Presently, as retirees, we've downsized our breeding program from a high of 24 horses to 5 at this writing.
Our focus presently is on promoting our BEAUTIFUL golden Buckskin stud, US National Reserve Champion Junior Stallion, GG Estaban, with his International Champion Bloodlines, kind, sensible temperament, and truly outstanding pisos (gait), and show-stopping action.